Not What We Had in Mind
Published on May 10, 2017
As designed, we always have a government of the rich, by the rich and for the rich, but this new extreme, discouraging moment in history is not exactly what those of us in the social justice and human rights progressive movement imagined would become reality this year.  Not what we have all worked hard to prevent, daily, weekly, year in and year out.
This most recent tectonic shift of reality happened while many of us were hard at work, building communities, holding down jobs, working at a non-profit or NGO, looking out for elderly parents or getting the kids to school.  We were thinking that we may not have it all going right but at least we have it going on.
Now that our government has been taken over by the wealthiest classes in the United States, really within both major parties, and similarly around the world in many countries, developed and under-developed, there's a call to fight back, to do something, to organize.
Well, we believe there is another story underway, which is that because we are organizing.  We are experiencing such a harsh right wing, conservative reality pushback because at the grassroots level, as well as at national and international policy levels, people, citizens, and communities have been taking care of business, getting things done, and making it more and more difficult for money and corporate interests to run over local communities.  There is, and we are part of, a global movement:   from the village to the city to our many nations.
The people won't be put back in the box, or forget that they have rights and can fulfill responsibilities within the systems under which we live, whether in the United States, or Uganda, Guatemala, Montana or at Standing Rock.
It takes serious repression, organized, armed and capacitized by the "state," as exercised at Standing Rock, on behalf of big players and big money interests, to keep the people in check and keep them from exercising their rights, from building their communities from within, from creating sustainable environments and vibrant local economies based not on an extraction industries but on intensive local production, regional cooperation and state-wide policy making.
In states like California, Washington, Massachusetts and Hawaii, the Governor and state legislature are prepared to take on the federal administration around climate issues, environmental protocols, fair labor and health access laws, housing and educational programs, criminal justice reform, immigration and so many other social and structural issues, in a struggle with a federal government determined to exercise regressive power.
PDF is in the business of strengthening these movements, this organizing, especially in out of the way places like South Dakota or South Carolina, helping people and communities survive, to push back, to care for themselves and their neighbors.
We are proud and humbled by the work and the people around us, by you, our donors, who ride with us year in and year out, by the commitments made to carry on the struggle and to celebrate the diversity, the strength and the beauty of the people, from Standing Rock to Little Rock, from Boise to El Barrio, across the country and around the world.
I urge you to join us, renew your support or become a new donor.  We are a winning team, with a winning strategy for the long haul, building resilient communities, informed and engaged citizens, creative local and diverse solutions to regional and larger problems.  This is not rocket science, PDF's grantmaking; it is not new, but it is strategic and logical and we are good at it.  And all over the country people are calling for the community organizing which we fund.
Our 35+ year record speaks volumes, our community partners are awesome, we are getting it done, and the conservative right and big money cannot derail us.  They may slow us down, but they cannot stop us.  As Dr. King said, "The arc of humanity bends toward justice."
We can get this done.  Together we push back and carry on against the odds.  Work with us, help us build PDF's grantmaking capacity and together we the people will go far.
In peace,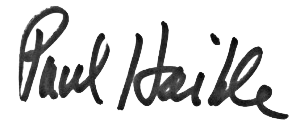 Paul Haible, Executive Director
Peace Development Fund