Unchained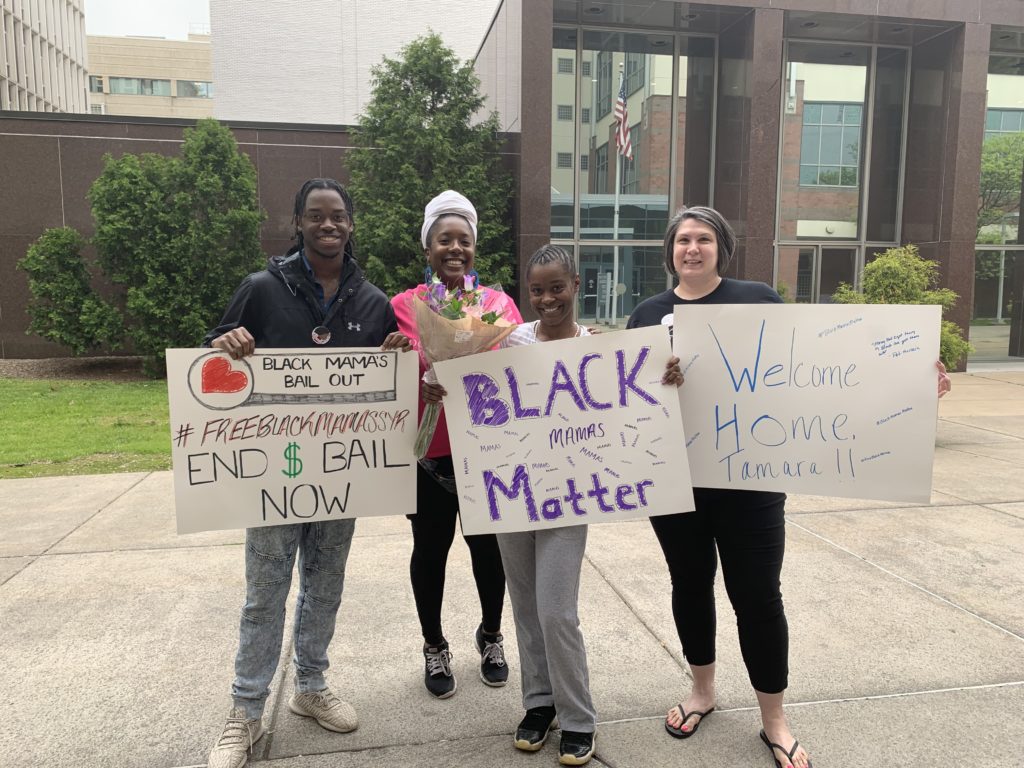 Unchained
2013 E. Genesee Street, Suite 9
Syracuse, NY 13210
www.weareunchained.org
Mission:
Unchained organizes and advocates to dismantle the carceral state and guarantee access to dynamic and culturally relevant education. We invest in people locked up by police and locked out of schools to build power and chart a path toward liberation by making racial and economic justice a reality.
History:
Unchained was launched in March 2018 in Syracuse, NY. Since launching last year, we have served as the upstate New York anchor for three statewide campaigns: #BailReformNY, #RaiseTheAgeNY, and #LessIsMoreNY. As part of the #BailReformNY campaign, we trained more than 50 volunteer court watchers between who observed nearly 700 arraignments documenting how bail is set. In April 2019, the state passed historic bail reform legislation. This victory was won only after Unchained organized a strong upstate constituency across Central and Western New York supporting the reform.
The Issues:
Many people in upstate New York are simply unaware of criminal justice issues if they have not been directly impacted, which makes community education critical. Within the community of directly impacted people in which we organize, communication poses a consistent hurdle. Our incarcerated members often have the most critical insight into the issues we choose to tackle, but making sure they are fully informed about our discussions on the outside and can make meaningful contributions is onerous, expensive, and risky.
Constituency and Leadership:
We organize people directly impacted by the carceral state including people in jail or prison and their loved ones in the community; people who have previously been arrested, under community supervision (probation or parole), or incarcerated; and people who have been pushed out of school due to harsh discipline policies. Our members are disproportionately Black and Brown and poor or working class.
Tackling Oppressive Structures:
Having people directly impacted by the carceral state, people of color, and poor people in all levels of leadership of the organization helps ensure that Unchained remains mission-driven and grounded in lived experiences. Our work explicitly confronts systemic issues like white supremacy and capitalism and promotes racial and economic justice. People living in cages are arguably one of the most oppressed groups in our society, and they lead our organization. People of color, poor people, people with disabilities, queer and gender non-conforming people, and immigrants are all overrepresented in the legal system. We work to draw connections between the systemic oppression of people and intersections with the carceral state. We strive to speak not on behalf of particular groups of people but in solidarity with them.
Movement Building:
Unchained is engaged in the abolition movement, broadly defined as a movement to dismantle a carceral state grounded in white supremacy and capitalist exploitation. We partner with groups at the local, state, and national level. Our key partner in our court watching work to monitor implementation of bail reform and Raise the Age has been the Criminal Justice Taskforce of the Alliance of Communities Transforming Syracuse, and our statewide partners on those projects are the Katal Center and the Children's Defense Fund, respectively. We do political education with peace groups, workers' rights groups, and others to highlight ways in which their work intersects with work to dismantle the carceral state. 
Long-term Vision for Change:
We change policy by making it untenable for public officials to uphold systems rooted in white supremacy and economic exploitation. We focus not on the ways that people need to be fixed but the ways systems need to be transformed. Our work seeks to dismantle our society's existing systems of punishment that oppress and exclude people of color and poor people and erect systems where people are nurtured and empowered. We imagine a world without police and prisons and take action to move us closer to that vision.
Missed an application? See all the groups participating in Grassroots Funding Week to catch up!
Organization Budget:  $63,000
Request: $10,000
raised to date this week:
You can support Unchained by clicking on the Donate button below:
---