May 21, 2014: PDF Honors Faith Ringgold at ACA Galleries in NYC
Published on May 7, 2014
HONORING FAITH RINGGOLD AND HER COMMITMENT TO SOCIAL JUSTICE, WITH PDF GRANTEES
MAY 21, 2014 | 6 – 9 PM
at 529 WEST 20TH STREET
5TH FLOOR
NEW YORK CITY
Sponsors
Ars Veritas
Flying Eagle Woman Fund
Fundación Rigoberta Menchú Tum
The Southern Diaspora Research & Development Center
TSalon
Light refreshments and tea cocktails.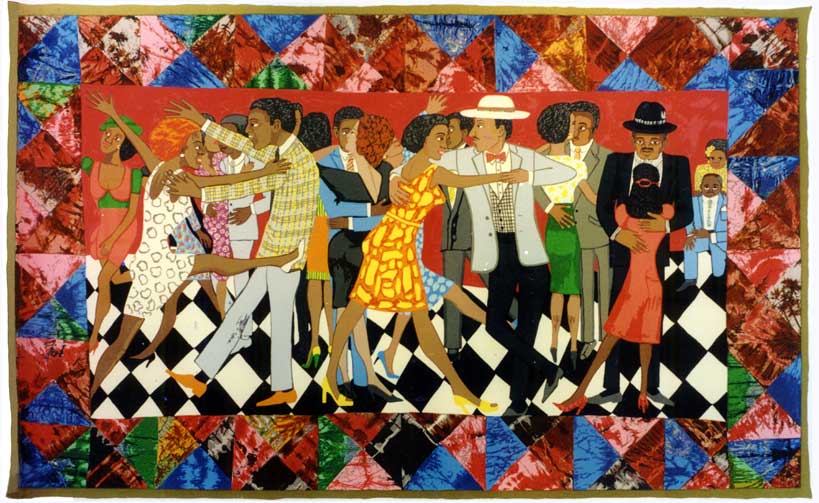 Faith Ringgold, Groovin High, 1996, Silkscreen, 24 1/4 x 39 1/4 inches. Courtesy ACA Galleries, NY. © Faith Ringgold
The ACA Galleries current show, SOCIAL ART IN AMERICA: THEN & NOW features past masters and current visionaries: James Chapin, William Gropper, George Grosz, Philip Evergood, Robert Gwathmey, Joseph Hirsch, Joe Jones, Jacob Lawrence, Jack Levine and Raphael Soyer representing the historic tradition; and Sue Coe, Luis Jimenez, John Mellencamp, and Faith Ringgold representing contemporary expressions of Social Art.
The arc of the exhibition traces the 1930's cry for economic justice, through mid-century America's struggles for civil rights, and arrives in our own time, when our fragile social compact is still being threatened. Though their times and social concerns are different, what unites their work is an understanding that the progress of civilization is often paid by the most vulnerable of society.