Ray Santiago Receives Award from Defiance College
Published on November 9, 2014
PDF Development Officer, Ray Santiago, was recognized last month with the 2014 Schauffler Legacy Award from Defiance College for his dedicated work and advocacy for human rights and social justice causes.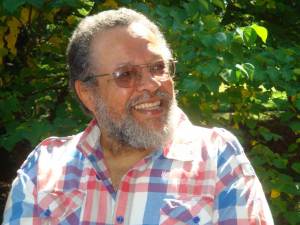 Ray's parents emigrated from Puerto Rico to Spanish Harlem. His father worked as a laborer, his mother worked in a sweatshop until she was disabled by an injury. He and his siblings were educated through the New York City public school system. As the first of his family to attend college, Ray participated in a college-readiness program, which is where he learned about Defiance College.
Professor Jeffrey Weaner announced that Ray, who graduated from Defiance in 1971, was selected for this year's Schauffler Legacy Award because from the start, Ray got involved in social activism. "He took the purpose of Schauffler and really has worked to advance humanity and achieve social justice," Weaner stated.
In addition to his studies and being a resident hall assistant, Ray found time to work as a volunteer juvenile probation officer, participate in Leadership Training and Community Organization for Spanish Speaking of Northwest Ohio, and be involved with the Center for the Study and Advancement of Non-white Cultures, the Atlantic-Pacific Streets Neighborhood Council and Phi Alpha Theta. Ray was also a Schauffler Scholar in Social Work and was awarded the Pilgrim Medal.
In the early 70s, Ray joined the Toledo -based Farm Labor Organizing Committee and Farm Labor Research Project. FLOC helped migrant workers organize and negotiate contracts with farmers and food processors.
Being an advocate has been Ray's lifelong work. The list of the many labor and community advocacy organizations Ray has been involved with is long, and includes his serving as:
Founder and resource developer/advocate for the Teh-Luh-Lah Center for education and Healing in Chimayo, new Mexico, an inter-generational, multicultural summer camp.
Founding member of the Southern Partners Fund, supporting progressive social change and community organizing in nine southeastern states.
Advisor to Fundamentals of Sports, a bridge program for inner-city youth;
Past board member of the Le Peña Cultural Center, Berkeley, CA
Staff member at the Interreligious Foundation for Community Organization
Ray is married to Dr. Margaret Reeves, senior staff scientist with the Pesticide Action Network of Northwest America, and they have one daughter, Tatiana.